Peterborough Cathedral's £2.5m boost to fix 'ghastly' entrance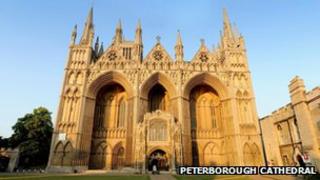 A cathedral is to get almost £2.5m to help improve its "rather ghastly" entrance and boost visitor numbers.
The Heritage Lottery Fund awarded the money to Peterborough Cathedral for works which should be completed in time for its 900th anniversary in 2018.
Plans include a visitor and heritage centre, new glazed entrance doors and extensive landscaping to the front.
The dean, the Very Reverend Charles Taylor, described the current entrance as "a rather ghastly cast iron ramp".
He added: "There is no obvious connection visually between the city centre square and the front door, so one of the things we'll be doing as soon as possible is re-landscaping the approach to the cathedral so the whole thing is on one level.
"It will lead people through and invite them to come in."
Peterborough's Norman cathedral - the Cathedral Church of St Peter, St Paul and St Andrew - was built between 1118 and 1238.