Cambridge cyclist Elizabeth Byrne-McDermott dies after crash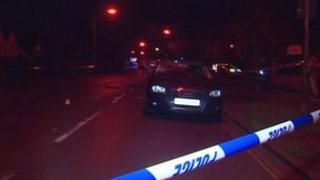 A cyclist who died after being involved in a crash with two cars in Cambridge was a "creative and brilliant" student, her college has said.
Elizabeth Byrne-McDermott, 16, of Humberstone Road, is believed to have been hit by both vehicles at about 19:00 GMT on Milton Road, police said.
A spokesman said she died later in Addenbrooke's Hospital.
The principal of Long Road Sixth Form College said staff and pupils were "devastated" by the news.
Elizabeth was involved in a collision with a yellow Peugeot 307 and a grey Audi A3 close to the Milton Road and Birch Close junction on Wednesday.
No-one in the vehicles was injured.
Elizabeth had been a pupil at the Long Road college in the city since September and was studying A-levels in psychology, geography, photography and art.
College head Christine Sherwin said: "Beth was a very creative young person with brilliant ideas and was able to demonstrate an independent approach to her studies very early on in the courses.
"She was a popular student who got on really well with everyone in lessons.
"Staff and students at the college were very upset and are still coming to terms with this devastating news, and our sympathies go out to her parents and all those who knew her."
Cambridgeshire Police continue to appeal for witnesses.