North Bank: Barrier installation work begins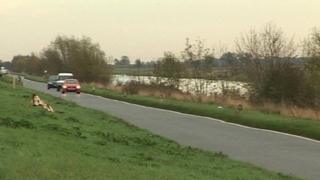 A road that claimed the lives of two people and saw five other accidents in the space of five weeks will be closed while safety barriers are installed.
Work on North Bank near Whittlesey, Cambridgeshire, will begin at 09:30 GMT on Monday and last about a week.
Peterborough City Council said a 40mph (64km/h) speed limit introduced last week would remain in place for the foreseeable future.
Additional safety measures could be installed next year, a spokesman said.
The 0.5-mile (0.8km) stretch of road has become a notorious accident blackspot, with campaigners calling for improved safety measures since 2008.
In November, Hannah Yates, 18, died when her car left North Bank and plunged into the River Nene.
The body of Keith Pettitt, 50, of Deene Thorpe, Corby, was found at the same spot in the river on 2 December, after his car crashed into the water.
Following his death, the council carried out safety checks on the road and announced its intention to install barriers.
A council spokesman said "subject to the weather", work on the 820ft (250m) barrier should begin on Monday and be completed by next Friday.
He added the council would consider installing red reflective road studs at a later date and look at other "appropriate measures" to improve safety.