Christmas PoW photos shine light on Ely's wartime history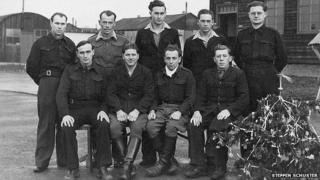 A little-known piece of Cambridgeshire's wartime history lay undiscovered for decades inside a photo album.
But Frank Crosby, who has spent countless hours researching local history, could not believe it when "out of nowhere" it finally emerged in an email pinged to him from across the continent.
Two photographs of prisoners of war held in Ely during World War Two had been sent to him from Germany by the son of one of the detainees.
With faint descriptions on the back, the pictures have given a new and fascinating insight into how the 1,000 or so prisoners stationed in the city at any one time spent their Christmas in the Fens.
"Most of Ely's long and fascinating history is well documented, but not so the story of the two prisoner of war camps," says Mr Crosby, project manager of the Rich Soil Rich Heritage community history group.
"We believe the photos are of German forces stationed at the Barton Fields camp where Ely Golf Club is today.
Christmas concert
"Both were taken in 1947 - two years after the war ended. Many prisoners stayed for a few years after the war because there were so many around the country, they simply couldn't be repatriated quickly enough."
One picture shows a group of prisoners at their camp next to a humble-looking Christmas tree, with the other capturing them at a Christmas concert supposedly recorded by the BBC.
During the war, Ely had two PoW camps - one holding German forces at Barton Fields and another holding Italian troops at West Fen Militia, now covered by Priory Court.
Those who could not be trusted stayed at the camps, but many spent the war working on the surrounding fields.
Mr Crosby says the local agricultural industry relied heavily on these prisoners during this period and some even lived in their own cottages on the farms.
Evidence has also emerged that the PoWs helped with emergency operations in the city and helped stem the waters during the 1947 flood.
But in their free time, Mr Crosby says the prisoners were encouraged to take up activities to "keep them sane" and they were allowed to celebrate Christmas.
"In many ways the conditions they lived in were not far removed from regular British Army camps," he says.
"They were allowed to indulge in crafts and we know they had bands.
"At Christmas, some locals gave the prisoners gifts and some then gave gifts back.
"They wouldn't have necessarily got a turkey and stuffing and a Christmas cracker, but they would have had hot meals every day and were looked after.
"They were just people away from home trying to have some sort of Christmas. The tiny tree in one of the photographs is an eloquent reminder of that."
While establishing much of the background to the photos, Mr Crosby says he is yet to find out where the Christmas concert was recorded, and has asked for anyone with information to get in touch.
"The photos were carefully identified on the reverse so there's no question they were taken in Ely.
"[The band photograph] could have been taken in somewhere like the King's School, but we really aren't sure.
"Most of the prisoners here were of little or no threat - many were probably glad to have been captured in the end.
"There was nothing special about the Christmas the prisoners had, but they appeared to have been treated with respect."