Whittlesey B1040 flood flouters halted by concrete blocks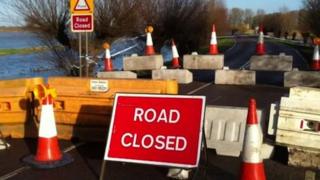 Concrete blocks have been put across a road in Cambridgeshire after motorists continually ignored temporary closure signs and cones on the flooded road.
Cambridgeshire County Council took the measure after the Environment Agency issued ongoing flood warnings for the B1040 Whittlesey Wash road.
Residents described the move as "stupid" and the flooding as "puddles".
A council spokesman said: "We have put up barriers to protect those motorists who ignore warnings, from themselves."
The concrete blocks and barriers have been stacked up across the carriageway at each end of a one-mile (1.6km) stretch of road.
The Environment Agency (EA) issued a flood warning - meaning flooding is expected and "immediate action" is advised - for the B1040 Thorney to Whittlesey road, south of the River Nene, on Sunday evening.
A spokeswoman said it was likely to remain in place for several days as further rain was expected.
"We advise that the road is likely to flood but it is not our remit to close roads," she said.
Residents living nearby said they should be "allowed to use common sense" to drive on the road.
One said using the detour turned a 20-minute journey into one that took an hour and forty-five minutes.
However, the council spokesman said the decision to close the road was taken because the EA warning meant there was "imminent danger".
"We have also had several representations from the police about people ignoring all other signs and removing traffic cones," he added.
"As soon as the flood warning is lifted we will inspect the road, remove any debris and re-open it."