Peterborough children's centre closures to go ahead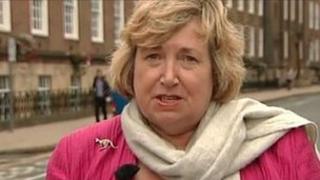 Plans to close eight out of 15 council-run children's centres in Peterborough have been approved by the city's Conservative-run cabinet.
City councillor Sheila Scott said the change would save the council £1.18m.
A network of four children's advice "super hubs" and three outreach centres will be set up instead.
A campaign group which fought the restructuring plan said it will take the decision to the Local Government Ombudsman.
The council said the eight children's centres earmarked for closure will be "re-used by other providers of services for families with children under the age of five".
Judicial review hopes
Angela Brennan, from the Save the Peterborough Children's Centres Campaign, said: "The battle isn't over, [it's] just beginning."
The campaign group said it hopes the ombudsman will approve a judicial review of "all the circumstances" leading to the current closures.
Cabinet member for children's services, Mrs Scott said: "Parents have told us they wanted the centres to continue as they are, but unfortunately doing nothing is not an option.
"In these very difficult times, when we have faced a £19m gap in our budget, we have had to make some very difficult decisions about future services."
The council said some of the services currently offered by the children's centres are now duplicated by central government.
These include free childcare for all three and four-year-olds and more health visitors in the city to work with young families.
Following a consultation, the cabinet amended its initial proposal by adding an extra £100,000 to be spent on developing "alternative ways to support families".
Mrs Scott said this would include "child development sessions" and health services, and help for parents to run their own groups.
The council expects to start negotiations with Spurgeons and Barnardo's, who are currently running the centres, once its budget has been approved in early March.