Council backs £30m Ely bypass scheme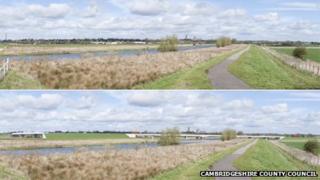 Plans for a £30m bypass around a Cambridgeshire city have been given the backing of the local district council.
It is hoped the one-mile (1.7km) road south of Ely will solve bottlenecks caused by the level crossing at the train station.
East Cambridgeshire District Council's planning committee has backed the plans.
A report to the committee said the public benefit to transport in the area outweighs the harm to a heritage area.
Heritage concern
The plans will go to Cambridgeshire County Council's for a final decision in the spring.
The scheme was criticised by the Campaign to Protect Rural England and English Heritage, which said views of the cathedral would be harmed.
If given the go-ahead, the road could open in 2015.
The A142-A10 link will be paid for by the county council along with contributions from East Cambridgeshire District Council, Network Rail and other bodies.
A recent survey found the level crossing is closed for up to 35 minutes every hour, with congestion likely to increase as more trains pass through Ely following rail improvements.