Peterborough United fan thanks paramedics for saving cardiac arrest father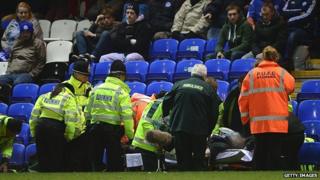 A Peterborough United fan has thanked paramedics for saving the life of his father who suffered a cardiac arrest during Wednesday night's cup game.
The match versus Swindon Town at Posh's London Road stadium was halted in the 85th minute as Ray Stratton, 67, was pulled on to the pitch for treatment.
Paramedics carried out CPR and he was taken to hospital.
His son Adrian said they were "close to losing him", but he was now talking and he "hopes to get him home soon".
'Struggling to breathe'
The ground fell silent in the 85th minute as the 67-year-old fan, from St Ives, was brought on to the sidelines by an off-duty paramedic.
Mr Stratton, 33, whose brother was also at the game, said: "All of a sudden he started making a noise and he was struggling to breathe.
"The next minute a paramedic from the Posh fans came bursting past and grabbed hold of him and put him to the floor."
But Mr Stratton said later that evening the family visited the lifelong fan in hospital and he was in a positive mood, despite the drama unfolding on national TV.
"The first thing he said to me when I walked in was, 'what was the score?'
"We were very close to losing him at one point.
"If he'd not been at the match and been anywhere down a street we might have lost him. The paramedics were literally four feet away from us."
Peterborough manager Darren Ferguson said: "It was quite surreal, and thankfully and hopefully he does recover - that's the most important thing."
Mr Stratton has been offered Wembley tickets by the club if Posh manage to reach the Johnstone's Paint Trophy final. The match finished 2-2.