St George's Hydrotherapy pool campaigners seek closure delay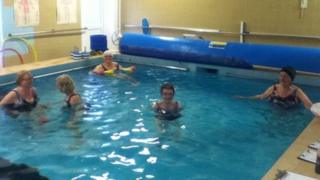 Campaigners fighting to save a hydrotherapy pool, set to close in March over council cuts, have asked for a delay so they can look for funding.
Peterborough City Council decided to withdraw its £45,000 subsidy to the St George's facility in Dogsthorpe as part of a bid to save £19m in 2014/15.
Pool supporters have asked for it to remain open for "one or two years" while they look to gain charity status.
A council spokesman said it was "exploring other options".
The pool provides rehabilitation for people with both physical and mental injuries and disabilities, who are unable to exercise or perform physiotherapy in a normal swimming pool or on dry land.
Since its opening in March 2011, it is estimated to have helped nearly 2,000 people from schools, day centres and care homes, or individuals who have hydrotherapy treatment in their care plans.
'Almost bed-bound'
Campaigner Trayce Smeeton, who started using the facility two years ago as relief from pain after spinal surgery, has so far collected more than 1,600 signatures in an online petition.
She said a reprieve would allow them to try and gain charity status or become a Community Interest Organisation (CIO) and apply for funding that way.
"An awful lot of people will become more disabled [if it closes] so [keeping it open] will save money in the long run because more carers and operations will be needed", she added.
"Using the pool has stopped me having further surgery and without it I would be almost bed-bound."
The council said the facility had previously been funded through department underspends but unless an alternative source of money could be found, it was "no longer in a position to support" it.
Councillor Nigel North added it was "unusual for a council to be running this type of facility".
"We are faced with making some very difficult decisions as we try to close a £19m gap in our budget," he said.
"We have tried to make it self-funding for some time, but so far this has proved unsuccessful, however a group of councillors and officers continue to explore other options to fund the pool."
Extensive repairs were also needed, he added.
A final decision will be made in March.