Cambridge University museum: £3m appeal launched for refurbishment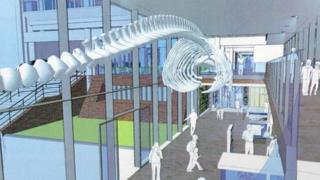 A museum housing one of the world's greatest zoological collections has launched an appeal to raise £3m towards its refurbishment.
The University Museum of Zoology in Cambridge has closed for the work and is due to reopen in June 2016.
It received funding from the Heritage Lottery Fund towards the £18m cost of the project and has applied for more, but needs to find the remainder.
The museum's exhibits include specimens collected by Charles Darwin.
It has been at its Downing Street site since 1865.
Museum director Paul Brakefield said that when it reopened, visitors would be able to take guided tours of its stores for the first time.
He said: "Not only will they be able to see the several thousand specimens in the public galleries, but the four million or so that we have behind the scenes.
"We still need to find very generous people who will help us achieve all our ambitions, enabling people to see the whole collection, but also to understand how evolution works and what Cambridge is doing for preserving biodiversity in the future."