Police keeping 'open mind' over Wisbech 'knife attack'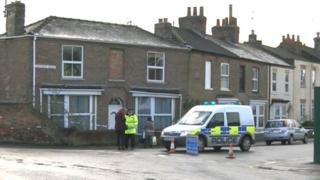 Police said they were keeping an "open mind" about a suspected knife attack on a man in Cambridgeshire.
Armed police were called to Victoria Road, Wisbech, on Tuesday after a man was reported to have been slashed in a possible machete attack.
A 57-year-old Lithuanian was taken to hospital but later discharged himself.
Cambridgeshire Police's Det Insp David Murphy said the "idea of an outstanding offender with a machete is not correct".
"An offender has not been seen, a weapon has not been seen or found despite using a dedicated search team and we're keeping a very open mind on what actually happened," said Det Insp Murphy.
"We're not 100% positive that this male was attacked with a knife in Victoria Street in Wisbech - it may well have happened at a nearby house which unfortunately the victim is not disclosing."
Police added the man was not as badly injured as first thought.