Luke Yardy and Ashley Yardy drowning: Employer fined £60,000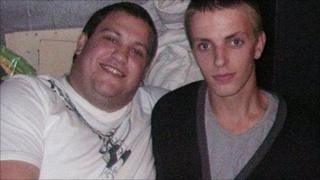 A company has been fined £60,000 after a man who had not been provided with a life jacket drowned while carrying out work on a lake in Cambridgeshire.
Luke Yardy, 17, from Stretham, drowned on 11 September 2011 after falling from a boat at Kingfishers Bridge Wetland in Wicken while retrieving a dead bird.
He was employed by AC, PC & RC Green, a farming partnership, which admitted breaching health and safety laws.
His step-brother Ashley Yardy, 22, who tried to rescue him, also drowned.
An inquest held in March last year heard that Luke Yardy, a self-employed gamekeeper, had gone to the lake in a rowing boat to recover some geese he had shot the night before during a culling exercise.
He got into trouble and fell into the water. His step-brother, who was with him but not working for the company, then went in to save him.
A jury returned a verdict of accidental death.
At a hearing at Cambridge Crown Court on Friday, the Health and Safety Executive (HSE) said the farming company had not only failed to provide Luke Yardy with a life jacket, but had also failed to provide him with any training in the use of boats or water craft.
HSE inspector Peter Burns, said: "This was a tragic and wholly avoidable incident that has taken the lives of two loving brothers and devastated their family and friends.
"Had Luke been wearing a simple floatation aid, like a life jacket, then he would not have drowned, and Ashley would not have needed to attempt a rescue."
AC, PC & RC Green was also ordered to pay £31,252 in costs.