St George's Hydrotherapy pool gets three-month extension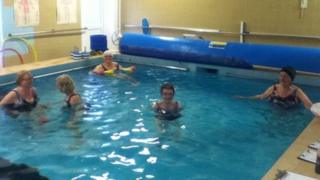 A hydrotherapy pool in Peterborough set to close in March as part of council cuts has won a reprieve.
The city council decided to withdraw its £45,000 subsidy to the St George's facility in Dogsthorpe to save money.
Pool supporters asked for it to remain open for "one or two years" while they looked to gain charity status.
The council has provided £9,000 to keep the pool running for a further three months and will work with local people to try to find long-term funding.
The council is reviewing all budgets in a bid to save £19m in 2014-15.
The pool provides rehabilitation for people with both physical and mental injuries and disabilities, who find it difficult or impossible to exercise or receive physiotherapy in a normal swimming pool or on dry land.