Elouise Keeling asthma death 'not preventable'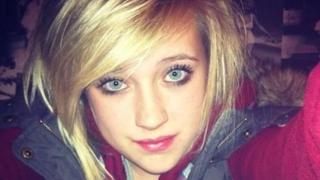 The death of a girl who suffered a fatal asthma attack could not have been prevented, even if an ambulance had not gone to the wrong address, a coroner has found.
Elouise Keeling, 14, collapsed at RAF Brampton near Huntingdon last June.
An ambulance called at 19:44 BST went to RAF Wyton, 10 miles away, by mistake and did not arrive until 20:03 BST.
Coroner David Morris said "the tragedy could not have been avoided by any more timely arrival".
Miss Keeling, who had asthma since she was 18 months old, died at the scene on 25 June as her mother, Karen Keeling, looked on.
'Spared heartache'
Recording a narrative verdict at Huntingdon Law Courts, Mr Morris said there was "good cause" for Miss Keeling's family to "feel aggrieved".
But he added: "I'm satisfied the ambulance service has been found wanting and has already taken many steps to address the issues raised."
The coroner said Miss Keeling, who had been at an RAF sports day, died from an acute asthma attack.
Outside the inquest, barrister Peter Collins read a statement on behalf of the family, who said they hoped to start a charity, the Elouise Keeling Memorial Asthma Trust, in her memory.
"The past two days have been an emotional and testing time for the family," he said.
"Whilst some questions will inevitably remain unanswered, they have finally been provided with an account of events that led to the tragic loss of their daughter.
"They hope lessons will be learnt and perhaps other families will be spared the same heartache and devastation that they will always feel as a result of Elouise's death."