Peterborough children's centre closures approved by council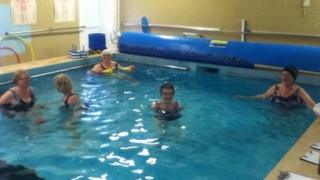 Plans to close eight out of 15 council-run children's centres in Peterborough have been approved by councillors as part of a package of £19m of savings.
The city's Conservative-run council also introduced charges for collecting brown bins used for garden waste.
But plans to close a hydrotherapy pool in April have been halted for three months while the council works with local people to find alternative funds.
The council's £155m budget was agreed by councillors on Wednesday night.
The authority originally put forward plans to close the popular St George's Hydrotherapy pool in Dogthorpe, Peterborough.
But after opposition from local people, the council has decided to work to find other sources of funding.
Nigel North, cabinet member for environment on the council, said: "I am very happy that money has been found to give this popular facility a breathing space in which we will all now try to identify long-term funding."
Sheila Scott, cabinet member for children's services, said the children's centre cuts would save the council £1.18m.
A network of four children's advice "super hubs" and three outreach centres will be set up instead.
A campaign group which fought the restructuring plan has said it will take the decision to the Local Government Ombudsman.
The council said the eight children's centres earmarked for closure will be "reused by other providers of services for families with children under the age of five".