Cambridgeshire newsagent 'postman' sells 5,000 stamps in a month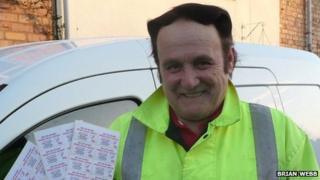 A newsagent offering a next-day postal service for half the price of Royal Mail has sold 5,000 of his own stamps in the scheme's first month.
Brian Webb, owner of Webbs of Leverington, Cambridgeshire, said business at his 30p mail service had "gone absolutely mental".
The service covers Wisbech and 19 surrounding villages and includes Sunday delivery.
Royal Mail increased its first-class stamp price to 62p earlier this week.
Mr Webb began offering his mail service to 1,800 customers at the beginning of March.
"People were a bit sceptical at first, but it's proved very popular and I think it will be even better when it comes to Easter and Christmas," he said.
"The idea of this new business is to support other local businesses. One, which sends about 100 letters a day, saved over £150 last week by using us.
"It works both ways; they're supporting my new venture as well," he added.
"I have had to ask one Royal Mail postman where a certain address was, and he said, 'I'm not telling you - you'll put me out of business', but I know him, and it was only a joke."
A similar private postal service is operated in Wellington, in Somerset.