Burwell's windmill reopens after £420,000 restoration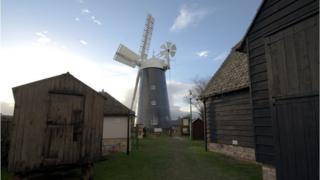 A Grade II* listed windmill that was on English Heritage's At Risk register four years ago has reopened after a £420,000 restoration project.
The four-storey, 40ft tall (12m) Stevens' Mill at Burwell Museum, Cambridgeshire, was built in 1820.
The mill has been restored to full working order and will be grinding flour by the summer.
The Heritage Lottery Fund has financed the project, which includes training volunteers to run the mill.
Stevens' Mill was last used in 1957 and put on the At Risk register in July 2010.
Mill consultant Luke Bonwick said by then it was "looking a bit sad and forlorn and unloved".
The building was leaking and its cap, which was supposed to revolve so the main sails can follow the wind direction, was stuck in one position.
It was also missing two of its four sails.
However, the mill was listed because it still retained all its original machinery, including the three mill stones.
Work began on the mill's restoration in February 2013.
The cap was restored, the leaks repaired and four 64 ft (19.5m) new sails built in Lincolnshire.
Volunteers working on site built 192 shutters for the sails.
Mr Bonwick said: "One of the keys was recruiting a volunteer team. They will work to maintain the mill once a week.
"But they have to be on hand 24/7 - for example, we had problems with a bit of weather damage during the strong winds in December."
He added: "It's like a ship at sea because it's governed by the weather and when you're inside it creaks and groan - but it's been here for 200 years and hopefully it will now be here for 200 years more."