Cambridge centre to 'challenge US soldier stereotypes'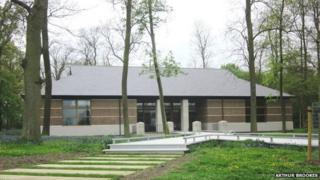 A £4m centre at a military cemetery will aim to challenge "stereotypical" stories of American personnel who died while on service in the UK.
Nearly 9,000 men and women are remembered at the Cambridge American Cemetery, Madingley.
The new centre, opened on Monday, commemorates them through case studies, photographs and films.
Guide Arthur Brookes said its aim was to show there was more to US personnel than "socialising and aeroplanes".
The cemetery is the UK's only permanent American World War Two military cemetery.
The 30-acre (12-hectare) site, which has 3,812 graves, includes memorials to personnel who have died in the UK, Mr Brookes said.
The centre, paid for by the American Battle Monuments Commission, includes a sacrifice gallery to tell the stories of some of those remembered at the cemetery, including that of Sgt Louis Bolton.
He was one of hundreds of US servicemen who died in April 1944 during a training exercise for D-Day called Operation Tiger, when their ships were torpedoed by the Germans.
His niece Laurie Bolton, from Kingsburg, California, said: "It was covered up [at the time] and the men who survived were told never to speak of it for the rest of their lives... so to have this here and acknowledged is huge."
Mr Brookes said that people in Britain have "a very stereotypical view that the Americans [during World War Two] were famous for their socialising and flying aeroplanes".
Work began on the 4,000 sq ft (370 sq m) interpretive centre in 2012 and includes a new toilet block, visitor centre and a bigger car park.
The cemetery was unveiled at a ceremony attended by various American officials and families.