Cambridge Corn Exchange warning sign after UB40 'ear bleed' gig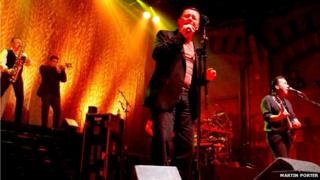 A music venue is to put up a permanent sign warning people about high volume levels after a UB40 gig blamed for causing a woman's ear to bleed.
About 30 people left the band's Cambridge Corn Exchange concert last month due to the noise.
A venue spokesman said the availability of earplugs would also be raised at staff training, after a complaint that they were not clearly displayed.
The woman whose ear bled has since been refunded for her tickets.
Anna Webster, who has had a perforated ear drum since childhood, woke up with a bleeding ear hours after leaving the concert.
She said the bass was so loud it was "altering heart rhythms".
Dr Yujay Ramakrishnan, a ear, nose and throat specialist at the Freeman Hospital in Newcastle, said Ms Webster's ear bleed was likely to have been triggered by the noise, but was not something many people would experience.
Neil Jones from Cambridge City Council, which runs the Corn Exchange, said warning signs were already put up for performances that were expected to be particularly loud, but a permanent sign would cover every eventuality.
It will state that concert-goers should be warned of potentially high volume levels and that earplugs are available if people want them.
Mr Jones said there was no warning the UB40 gig was going to be especially loud. It is not known exactly how loud it was.
Other than the complaint by Ms Webster, Mr Jones said no-one else had formally complained to the venue or requested a refund because of the noise.
The warning sign is to go up on Sunday before a concert by Neil Finn.