Cambridgeshire model village succumbs to the elements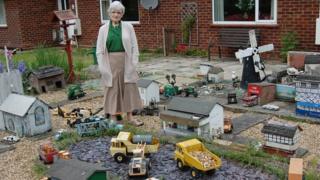 A miniature village, handcrafted by a couple over a 50-year period, has begun to succumb to the elements leaving an elderly widow facing a battle to save it.
It was a labour of love - many years ago - but is now looking anything but.
Pat Bullman and her late husband Oliver's model village sits in the front garden of the couple's bungalow in Wicken, Cambridgeshire.
Now 80, Mrs Bullman has had to admit the wooden structures her husband hand-built are rotting away and she is unable to save them.
"Tourists used to stop here in the past, but now there's no-one to keep it looking good," she says.
The couple started the display with just one windmill, which they put in for their daughter.
Over the years they added a fire station, railway station, hotel, fish and chip shop and a church, among many others.
"We just put whatever we fancied in there," Mrs Bullman says.
"The local children always loved it, and the neighbours did too. The university even used to bring visiting students here when they took them on trips to see places in Cambridgeshire."
Mr Bullman was still handcrafting new pieces for the village in a workshop in the back garden until his death two years ago.
"It was something we always loved doing together," Mrs Bullman recalls.
"Oliver built everything and I did the painting. I've tried to keep things painted but I can't stop all the wood from falling apart."
Despite the miniature village being peppered with toy vehicles, Mrs Bullman says nothing has ever been stolen from the garden, although it was once vandalised.
"It wasn't the local children who did that though, we know that for a fact as they loved it too and were shocked when that happened.
"Things like the little trucks aren't cheap, but in fact people have given them to us, rather than taking them away," she says.
Refuse collectors used to bring the couple toy vehicles when they found them in people's rubbish, Mrs Bullman adds.
The village is not modelled on a particular place, and it has no name.
"We could never think of anything good to call it," Mrs Bullman says. "Nothing seemed to fit."
After 50 years, she admits there is little future for the village with no name.
"I have a few new trucks that I am trying to paint, but after I've added them I don't know what will happen next," she says.
Passers-by used to donate money which Mr and Mrs Bullman gave to charity when the model village was "in its hey-day".
"It's not good enough for that anymore, though," Mrs Bullman admits.
"It is a big effort to to keep it exactly as it should be. I would love to try and get someone to take it over or I will have to let it all go.
"Everyone has such busy lives these days, there's no time for anyone to help stop it all going downhill and crumbling away."