John Bishop adopts pig from RSPCA Block Fen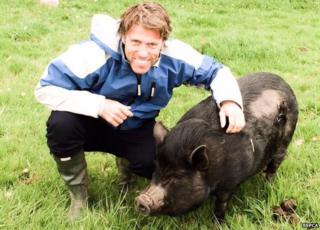 Comedian John Bishop has adopted a rescued pig after his wife saw a video of it online and "fell in love".
Milo, three, had been at the RSPCA's Block Fen centre in Cambridgeshire since June and the charity posted footage of him on Facebook in November.
He was delivered to Bishop's Cheshire home before the pair had actually met.
The RSPCA said its inspectors had checked the star had the means to look after the pig before the adoption could take place.
Milo was rescued in "northern England" when he was a piglet after being found in inadequate accommodation, the RSPCA said.
He had been rehomed in 2012 by Block Fen, but was returned after his new owners found they could not look after him.
Jackie William, Block Fen manager, said: "John's wife saw the information and video of him, fell in love and they arranged for him to be collected without actually meeting him first.
"RSPCA inspectors have done the adoption checks at his new home to ensure he's got a hard-standing area and a pig ark [for Milo] to shelter in.
"As long as the Bishop family give him food, he'll be very well behaved and I think he's found a good home and will be spoilt rotten."
The RSPCA said Milo had already been trained to respond to a "clicker" when he was being offered food.