Cambridge football statue plans resurrected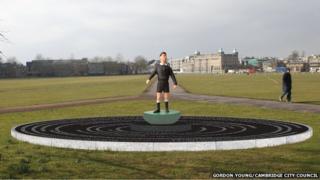 Plans to build a sculpture to celebrate Cambridge's contribution to the rules of football have been resurrected after previously being shown the red card.
Four artists have been chosen to submit designs to the city council by 15 August, with a panel then commissioning one to be created on Parker's Piece.
An idea to create a Subbuteo-style referee was rejected before the public consultation stage last year.
City councillor Robert Dryden said the statue could be a tourist attraction.
'Defining influence'
It has been claimed that the original rules of football were developed by students playing on Parker's Piece in 1848.
A plaque at the city centre park already celebrates how the "Cambridge Rules" became the "defining influence on the 1863 Football Association rules".
The Football Association however, says that although "elements" of the Cambridge Rules were in its own version, there were "a number of differences".
Negative feedback and "commercial issues" relating to the maker of Subbuteo, Hasbro, resulted in the referee statue plan being dropped by the city council.
But Labour councillor, Mr Dryden, who had campaigned for a statue to be built to celebrate the FA's 150th birthday, said the authority was still keen for something to be created.
"I'm very pleased that it's been resurrected, but it would have to be something that the majority of people in Cambridge would like," he said.
"Cambridge has millions of tourists and I believe it could become another tourist attraction."
The artists and sculptors that have been approached are Kenny Hunter, Neville Gabie, Nayan Kulkarni and Mark Titchner.