Amina Agboola case: Dean Harris 'thinking nothing' while kicking child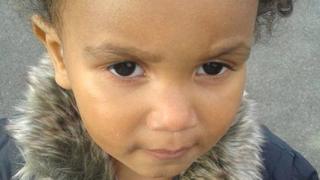 A man accused of murdering a two-year-old girl told a jury he was "thinking nothing" when he kicked her six feet across a room.
Amina Agboola, of Scott Drive, Peterborough, died of a ruptured liver after the attack by her mother's boyfriend on 21 November, Cambridge Crown Court heard.
Dean Harris, 19, has admitted manslaughter but denies murder.
Amina's mother Sarah Racqueman, 29, denies causing or allowing her death.
Mr Harris told the court he had become "a bit frustrated" after cleaning and changing Amina when she had repeatedly soiled herself.
'Quite winded'
His counsel, Alastair Malcolm, asked Harris: "When you kicked Amina, what was going through your mind?"
Mr Harris replied: "Nothing."
Asked if he had intended to kill or cause her serious harm, he twice replied: "No."
Mr Harris said when he kicked Amina, she "went across the room at quite a distance... and landed on her front".
"I picked her up, I was just checking her belly button to see if she was alright. She was quite winded," he said.
Mr Harris said he tried to pick up Amina and put her on her feet, but she was unable to stand.
"She muttered a few words; she was weak, was very quiet."
Paramedics who responded to a 999 call made by Harris described the child as looking "like a rag doll" when they arrived.
'Easy to lie'
Under cross-examination, Mr Harris admitted to the court he had initially lied to Amina's mother and medical staff about what had happened to the child, claiming she had fallen off the toilet.
He told prosecutor Zoe Johnson he "couldn't own up" to Ms Racqueman and had "panicked".
"Do you find it easy to lie?" Ms Johnson asked.
"In some ways, yes," Mr Harris replied.
"All I've done since then is try to block it out of my mind. It [the kick] took the breath out of her chest, She just muttered a couple of words, that was it," he added.
An inquest concluded Amina died from a ruptured liver and "blunt force trauma" to her abdomen.
Her liver had been split in two, the court was told, and there was evidence of older injuries on her body including a recently broken arm, bruises to her face and skull, and bite marks on her cheek and forearm.
Mr Harris told the court he had bitten Amina on the cheek "as a joke, playing around" the day before she died, in response to her biting his finger.
The trial continues.