Peterborough festival Harris hawk leaves tree as hunger strikes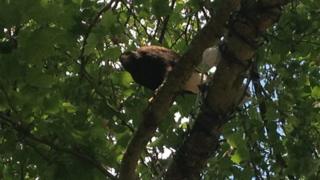 A hawk that escaped after performing at a festival in Peterborough and took up residence in a tree in the city was persuaded down when she became hungry, her owner said.
Harris hawk Spirit escaped from Gary Baxter during the city's Heritage Festival on Sunday.
She had refused to be coaxed from a tree in Bridge Street, despite being tempted with food.
She came down on Monday when she finally became hungry, Mr Baxter said.
Falconer Mr Baxter, from Wisbech, said he had spent the first night beneath the tree with the bird "snoring in his ear", waiting for Spirit to fly down.
He said "patience" was the key, but hunger had eventually got the better of the hawk, who is now safely back home with her owner.