St Neots footballer David Deeney 'sorry' for offensive tweets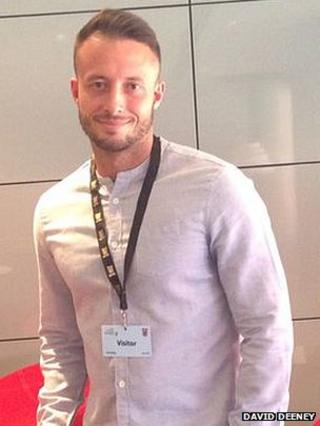 A footballer said he is "very sorry" and was "stupid" for tweeting about stabbing Kettering Town fans and posting offensive remarks about disabled people and women.
David Deeney, who plays for St Neots Town, was banned for a number of games and fined £500 by the FA in May.
The 27-year-old admitted he is "hot-headed" and "can't control his mouth".
But he said he is now a "better person" having been to a sports clinic and thanked his club for standing by him.
The tweets first came to the FA's attention in March after Deeney posted a threat towards Kettering fans in a game that involved his brother Ashley.
Deeney, who plays right back and centre midfield for the Southern Premier Division side, was originally banned for 15 games, which was reduced to eight on appeal.
He said he checked himself in to the Sporting Chance clinic earlier this year for a gambling problem and while there he also received advice about how to conduct himself online.
"I apologise for the tweets and I apologise to the club for bringing them into what was a personal matter," he said.
"It was not right, as a footballer I'm supposed to be a role-model and I responded to things in a stupid way.
"I obviously had no intention to go there (Kettering), it was just the heat of the battle."
He added: "I've had death threats and a load of ludicrous stuff sent to me. It was just banter and sarcasm that got out of hand.
"The club have been amazing to stand by me".
A St Neots Town spokesman said: "We said from the start we would stand by and help instead of passing Dave on to someone else to deal with.
"If lessons have been learned then we can all move on and get on with the new season".