Peterborough 'mystery amnesia man' names investigated after plea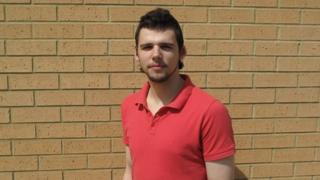 Names have been suggested by people who think they have identified a "mystery man" found in a Peterborough park with a "severe case of amnesia".
"Robert", who says he cannot remember details of his life, has been cared for by the Cambridgeshire and Peterborough NHS Trust (CPFT) for two months.
The trust said people from around the UK had been in touch and information was being shared with police.
It is thought Robert may originally be from eastern Europe or Russia.
The trust released Robert's details on Thursday in the hope that someone might recognise him and "help him piece his life back together".
Robert - as he has been named by healthcare workers - says he cannot recall his name, age, where he is from or any other details of his life. He is believed to be in his 20s.
He was found in a park early on 18 May, with no form of identification on him, no mobile phone and no signs of physical injury which might explain his memory loss.
'Distressing place'
He is 5ft 9in (1.75m) tall and weighs 13st (82.5kg). He has dark hair and blue eyes.
English appears to be a second language, and he understands some Lithuanian and Russian, a CPFT spokesman said.
Dr Manaan Kar Ray, clinical director of acute care at CPFT, said: "Robert has lost completely his entire autobiographical memory.
"These are the building blocks of our existence, so he finds himself in a really distressing place at the moment."
Despite having taken him to places which might "spark a memory trace", Dr Kar Ray said: "So far we haven't had any joy.
"When we do get a name... or when we get leads, that will be the beginning of a journey for Robert.
"Without your past there is no present or future," he said.
"The length of time [with amnesia], 50-plus days, is extremely rare.
"In about 15 years of being a psychiatrist this is the first time I've encountered something where people haven't recollected any of their autobiographical memory for this length of time," Dr Kar Ray added.
The trust spokesman confirmed staff were "collating names and information" provided since its appeal was launched and was liaising with police.