St Ives crash kills driver, 90, and pedestrian, 82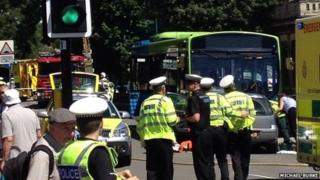 Two people have died and two others seriously injured in a crash involving a bus and a car in Cambridgeshire.
Pedestrian Pauline Harrisson, 82, of Queens Road, Somersham, died in the collision in Market Road, St Ives, at about 11:50 BST on Monday.
The driver of the car, William Brooke, 90, of St Ives Road, Somersham, died at Hinchingbrooke Hospital on Tuesday.
The bus driver was uninjured in the crash. Officers have appealed for any witnesses to contact them.
A second pedestrian, a 62-year-old woman, and the 82-year-old female passenger of the car were also both seriously injured, police said.