Stilton campaigners hope 'cheesy shoe' will help PDO battle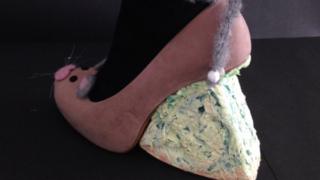 A shoe with a "Stilton wedge" heel is the latest tactic by the Cambridgeshire village of Stilton to get its blue cheese officially recognised.
Richard Landy is leading Stilton's campaign against an EU law stating it can only be produced in Leicestershire, Derbyshire and Nottinghamshire.
He asked resident Lorna Grey, a design student, to make the "prototype" shoe.
"Stilton makers produced Stilton perfume once, but we thought a Stilton shoe was a bit quirkier," he said.
In 1996, the Stilton Cheesemakers' Association achieved Protected Designation of Origin (PDO) status for blue Stilton from the European Commission.
That meant it could only be produced in the counties of Leicestershire, Derbyshire and Nottinghamshire where it is thought the cheese originated.
However, Mr Landy said 18th Century documents proved Stilton cheese originated in its namesake Cambridgeshire village.
An application to have "Stilton's Village Blue" recognised by the Department for Environment, Food and Rural Affairs (Defra) was rejected in October.
'Foot in both camps'
Campaigners have since met with Defra and George Eustice, minister for farming, food and the marine environment, and plan to reapply.
In the meantime, Mr Landy hopes the cheesy shoe will help promote the village's product.
Miss Grey, 19, a footwear design student at De Montfort University, said: "I was a bit shocked when I was given the brief but I'm really happy with the result.
"It's not actually made of cheese. I used a variety of materials to make the shoe and painted the wedge to make it look like real cheese.
"It's a prototype and a bit funny to walk in but I'm sure I'd get the hang of it eventually."
Mr Landy said: "The cheesemakers' association use all sorts of things like perfume and a stilton dress to promote their product.
"We've got a cheesy shoe.
"It could be seen as a slightly dodgy choice because although the idea of cheese and feet goes together, it's not usually in a good way.
"But Lorna's got a foot in both camps. She's studying in Leicestershire but she's from Stilton, so we think it's a good choice."