Painted mannequin stolen from Cambridge garage roof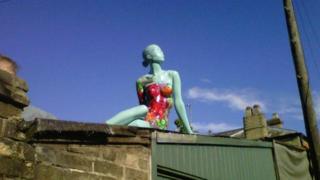 A shop dummy has been stolen from a garage roof in Cambridge.
The painted mannequin was taken from the roof in Chesterton Road between 21:00 BST on Monday and 07:00 the following morning, Cambridgeshire Police said.
It was being displayed as part of a community art project called Mitcham's Models in the area close to the city's Mitcham's Corner.
The mannequin was due to be auctioned for charity, police said.