WW1 poppies mown down by Network Rail at Shepreth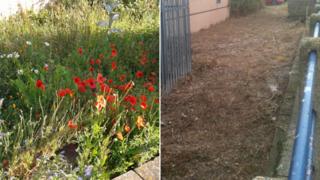 Network Rail is to replant a World War One poppy garden at a Cambridgeshire railway station after a worker accidentally mowed it down.
Volunteers created the garden at the station in Shepreth in May last year in time for this month's centenary.
A councillor said residents were "devastated" to find the garden, designed to honour villagers who died, had been destroyed.
Network Rail apologised and said it would pay for replacement planting.
A spokesman said: "We are extremely sorry for the damage to the flower garden and offer our sincere apologies to the volunteers and all those who have donated time and money over the last 18 months.
"We... will make sure that this is put right."
He said signs would be erected informing rail staff that the memorial flowerbed should not be disturbed.