Shepreth WW1 survivors memorial planned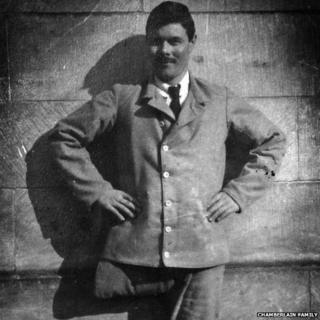 In the centenary year when people are paying tribute to those who fought and died in World War One, a Cambridgeshire village is planning a memorial to those who fought - and survived.
Shepreth Parish Council has compiled a list of 33 men from the village who came home from the war.
Shepreth already has a memorial bearing the names of 10 who failed to return.
It has not yet been decided what the new memorial will look like or where in the village it will be positioned.
Richard Handford, from the council, said: "For me, the men who returned are a sometimes forgotten group.
"These days I think there's a much greater awareness of the issues facing people who come back from conflicts.
"Many of Shepreth's young men came back badly wounded, some with missing limbs, and attempted to carry on with their lives."
'Nerves and nightmares'
One such survivor was Will Chamberlain, whose name is one of the 33 on the village list.
He enlisted in December 1915 in the Bedfordshire Regiment and was invalided out of the war when he lost his leg in the fighting.
His granddaughter Pat later recalled "sitting in the gap where his leg would have been so I could be nearer to the television".
"He would have nightmares - I was in the next room and it was really awful. I think it was a combination of pain and nerves and nightmares," she said.
"But he would never talk about it and we would never talk about it to anyone else."
Her grandfather died in 1971, a week after his 80th birthday.
"We now have a list of the names of 33 people who in a sense might be forgotten," Mr Handford said.
"We will ask the village how best they think we should remember them."