Ice bucket challenge requests to use Cambridgeshire fire hoses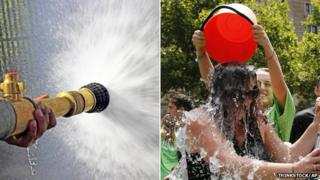 A fire service has had to point out hoses are not the same as buckets of ice after a number of requests to borrow them for charity challenges.
People around the world have been filmed having buckets of freezing water poured over their heads to raise money for charity.
However, in Cambridgeshire, some are "wanting to take it to extremes", a fire service spokesman said.
"We've had to tell them a fire hose is not designed to be used on people."
Five groups and individuals have recently asked to borrow fire hoses from Cambridgeshire Fire and Rescue Service to use for their own versions of the challenge.
"While we fully support ice bucket challenges - and many of our own staff have taken part - we really cannot facilitate requests to borrow our hoses," the spokesman said.
"If we say yes once, we will feel obliged to facilitate other people and we do actually have other community services to carry out.
"The force of the water from a fire hose means it is really not designed to be pointed at people. It's not a bucket of icy water."