Aukse Medvedevaite murder: Peterborough man admits killing daughter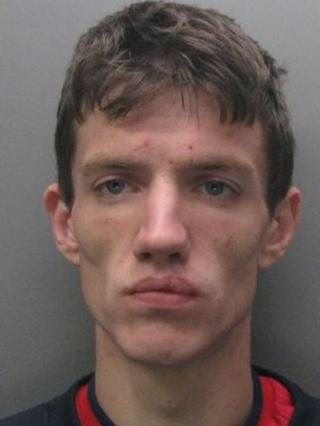 A father has admitted murdering his two-month-old baby daughter by repeatedly striking, biting and violently shaking her.
Aukse Medvedevaite, who also had "signs of numerous other inflicted injuries", died in Peterborough last year.
Lithuanian agency worker Aurimas Medvedevas, 23, initially denied murdering her, but changed his plea to guilty at the Old Bailey earlier.
Judge Timothy Pontius described the case as "distressing and tragic".
Aukse was found dead in her cot by her mother, 22-year-old Dzesika Urbikaite, when she returned home from work at about 22:30 BST on 5 September last year.
It was her first day back at work after maternity leave, Cambridgeshire Police said.
Two bite marks
Medvedevas, of Clifton Avenue, Peterborough, told police he had been in sole care of the baby during that time, but denied hurting her.
He later accepted he had caused the injuries to his daughter and on Friday admitted murdering Aukse.
Medvedevas said he had shaken his baby and thrown her on the bed and from there she fell to the floor.
A post-mortem examination revealed internal injuries included a deep cut to her liver and five rib fractures.
There were bruises and abrasions on Aukse's body as well as two bite marks on her head. One bite mark matched the defendant's teeth imprint, the court heard.
'Car crash' injuries
Bleeding on the brain and in her eyes indicated she had also been shaken.
Supt Jon Hutchinson, from the Bedfordshire, Cambridgeshire and Hertfordshire Major Crime Unit, described Aukse's injuries as "consistent with having been in a car crash or dropped from a one-storey building".
"This was a shocking, brutal crime in which a baby girl who was only nine weeks old was murdered by a person who should have been looking after her," he said.
"Medvedevas simply did not want to look after his daughter and ended up inflicting injuries to her that would prove fatal.
"I hope today's conviction provides Aukse's mother with some small comfort."
Judge Pontius told the Old Bailey jury that they had heard the defendant's "clear and voluntary confession of guilt".
He told them: "This is a distressing case and a tragic one. You are relieved of the burden of listening to that evidence."
Medvedevas is expected to be sentenced next week.