Scott Polar's Shackleton project gets £500k to expand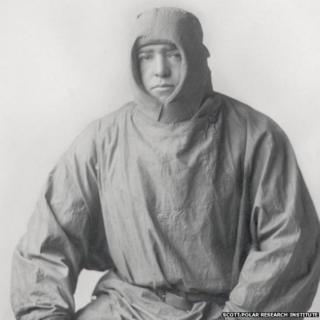 A collection of items commemorating polar explorer Sir Ernest Shackleton has been boosted by a £500,000 grant.
The Scott Polar Research Institute (SPRI) in Cambridge is one of 23 organisations to receive a share of £5m from the Heritage Lottery Fund (HLF).
The £500,000 grant is the largest amount awarded to a single institution in the current round of funding.
It will be used to acquire new items from Shackleton's three Antarctic expeditions from 1907 to 1922.
The HLF's Collecting Cultures programme was set up to provide funds to enable museums, libraries and archives to "add to their core collections through strategic purchases".
The SPRI grant will be put towards its By Endurance We Conquer: the Shackleton Project collection.
'Particularly honoured'
Its archive, museum and picture library already hold a number of Shackleton-related objects including diaries, lecture notes and poetry, foodstuffs from the explorer's Antarctic expeditions, goggles, medals and a clock.
However, keeper of collections Heather Lane said she expected "a large number of items relating to Shackleton's life and expeditions" to come on to the market as this year marks the centenary of the start of his Imperial Trans-Antarctic (Endurance) Expedition, which lasted from 1914 to 1917.
As well as that expedition, the institute hopes to add to its items relating to the British Antarctic (Nimrod) Expedition of 1907-1909, and the Shackleton-Rowett (Quest) Expedition of 1921-1922, during which Shackleton died.
Ms Lane said: "We are particularly honoured to be the only organisation nationally to achieve this award at the maximum level.
"The HLF has been most generous in its support of the redevelopment of The Polar Museum and Archives and we look forward to working with them to bring the amazing story of Sir Ernest Shackleton to wider public attention."
The Anglo-Irish explorer accompanied British naval officer Robert Falcon Scott on his 1901 Antarctic expedition trekking towards the South Pole before difficult conditions forced them to turn back.
Shackleton led two further Antarctic expeditions before dying of a heart attack in January 1922 while attempting to circumnavigate the Antarctic continent on his fourth expedition.