Counterfeit tobacco found in carcass in Peterborough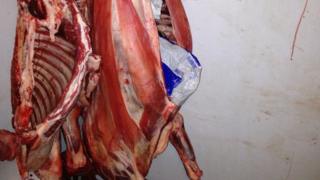 Counterfeit tobacco and cigarettes were found stuffed in the carcass of an animal at a food store in Peterborough.
The products were found in a walk-in chiller at Afghan Food Store, on Dogsthorpe Road, in March.
Some of the cigarettes failed "ignition tests" and others had no health warnings, which are required by law.
Sadiqulah Farouq was made to pay £2,075 after admitting six offences at the city's magistrates' court, relating to the sale of illegal tobacco products.
Peterborough City Council said traders needed to learn there was "no advantage in selling cheap and illegal products".
"Counterfeit and unsafe cigarettes may seem more profitable, but, when caught, traders pay a heavy price," said trading standards officer Peter Stonely after Wednesday's hearing.
"Traders such as Mr Farouq put consumers at risk and threaten the livelihoods of honest businesses."