Bassingbourn Libyan cadets' movements restricted after sex attacks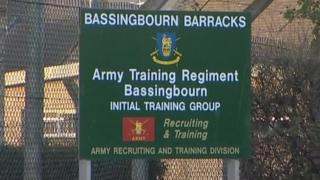 Libyan soldiers training at an Army camp in Cambridgeshire have been restricted to limited escorted trips outside the base after two admitted sexually assaulting women in Cambridge.
The Ministry of Defence (MoD) initially said the 300 recruits who arrived at Bassingbourn Barracks in June would only be allowed on escorted trips.
However, it has emerged these rules were later relaxed. They have now been reinstated, the MoD confirmed.
The two men have yet to be sentenced.
The UK Government announced last year it had offered to train up to 2,000 cadets to ensure Libya's transition to democracy and its security.
Visa conditions
Armed forces personnel arrived at the barracks from Libya in June for training in basic infantry skills and junior leadership skills.
At the time, the MoD assured local residents the men would only be allowed to leave the base on escorted trips.
However, the BBC has learned soldiers have been allowed out on both supervised and unsupervised visits.
In a statement, an Amy spokesman said: "During the training recruits are expected to be fully engaged and opportunities for them to leave camp have been limited.
"However, when free time is scheduled then, in accordance with their visa conditions, they have had opportunities to visit places of interest.
"As a result of recent events, such permissions and opportunities are being kept to an absolute minimum and unescorted visits will not be permitted, which alongside additional precautions being taken with the local police should reassure the local community."