Fowlmere Primary teacher quits after taping pupil's mouth shut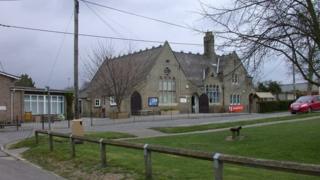 A supply teacher who put sticky tape over a pupil's mouth to keep the child quiet has resigned from a school.
The teacher at Fowlmere Primary School, near Royston, is said to have taped the nine-year-old's mouth "as a joke" in a lesson.
The Cambridgeshire school said an investigation had been carried out and an apology made to the pupil's parents.
"There was no ill intent or unkindness intended... and the member of staff has resigned their post," the school said.
In a statement released through Cambridgeshire County Council, a school spokesman said: "It is clear this incident should not have happened.
"We have spoken to the child's parents and apologised as this fell below the standards we expect."