Two Libyan soldiers charged with rape in Cambridge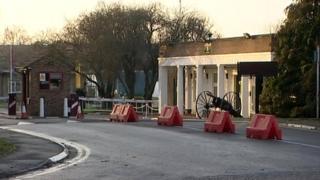 Two Libyan soldiers have been charged with raping a man in Cambridge.
Moktar Ali Saad Mahmoud, 33, and Ibrahim Abogutila, 22, based at the Bassingbourn barracks, are the fourth and fifth Libyan soldiers to be charged over sex attacks in Cambridge.
They are due to appear before Cambridge Magistrates' Court on Tuesday.
They are accused of carrying out the attack on Sunday 26 October, Cambridgeshire Police said.
'Training to end'
Last week, Libyan cadets Ibrahim Naji El Maarfi, 20, and Mohammed Abdalsalam, 27, appeared before Cambridge Magistrates' Court to admit two counts of sexual assault.
They are due to be sentenced on Tuesday.
Libyan Khaled El Azibi, 18, has also been charged with three counts of sexual assault, but has yet to enter a plea.
All five men have been undergoing training at Cambridgeshire's Bassingbourn Barracks, the Ministry of Defence (MoD) confirmed.
More than 300 armed forces personnel arrived at the barracks from Libya in June for training in basic infantry skills and junior leadership skills.
The MoD has announced the cadets' training in the UK will end prematurely and they will be leaving over the next few days.