PM says Libyan soldiers at Cambridgeshire barracks should not get asylum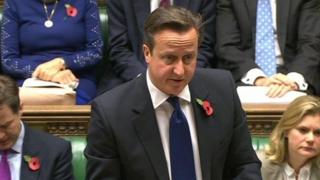 The Prime Minister David Cameron has told MPs no Libyan soldiers training in Cambridgeshire should be granted asylum in the UK.
It comes after 300 soldiers had training at Bassingbourn Barracks cut short after allegations that recruits carried out sex attacks in Cambridge.
Mr Cameron also ordered a report into the training by the chief of the defence staff.
He said the events were "completely unacceptable".
The Ministry of Defence (MoD) is reviewing whether Libyans can continue to train in the UK following "disciplinary issues", which include five men being charged with sex offences against members of the British public.
Up to 2,000 soldiers had been due to undergo basic infantry and junior command training at the barracks under an agreement reached at last year's G8 summit.
But the first group of 300 soldiers will now return "in the coming days". Their stay had been due to finish at the end of the month.
A "handful" of asylum applications has been made by Libyans being trained at the base, the BBC understands.
The number to have applied for asylum is around five, according to Special Correspondent Lucy Manning.
Conservative former Cabinet minister Andrew Lansley, whose South Cambridgeshire constituency includes the barracks, told Mr Cameron there was initially support for the training of the troops in his area.
'Criminal actions'
But during Prime Minister's Questions, he asked: "Do you share my concern that the programme failed to maintain discipline and the consequences of that were very serious in my local community?
"Will you undertake that the Ministry of Defence will give my constituents a full accounting of the failures in the delivery of this programme?
"Will you also agree that the Libyan soldiers should now be repatriated to Libya and there is no basis for any of them to seek or receive asylum in this country?"
Mr Cameron replied: "I agree with you on every front. What has happened at Bassingbourn in Cambridgeshire is completely unacceptable.
"These are criminal actions and I have asked the chief of the defence staff for a report into this."
He said a decision was taken at the national security council which he chaired on 28 October to end the training.
"The trainees will be returning to Libya in the coming days and in the meantime all unescorted visits from the camp have been stopped altogether," he said.
Disciplinary problems came to light after Libyan cadets Ibrahim Naji El Maarfi, 20, and Mohammed Abdalsalam, 27, appeared at Cambridge Magistrates' Court last week and admitted two counts of sexual assault. They are awaiting sentence.
Khaled El Azibi, 18, has been charged with three counts of sexual assault linked to the same incident but has yet to enter a plea.
Moktar Ali Saad Mahmoud, 33, and Ibrahim Abogutila, 22, have also been charged with rape.
They appeared before the city's magistrates on Tuesday morning where their case was adjourned for them to appear at Cambridge Crown Court next Tuesday.
They were remanded in custody.