WW1 Peterborough woodland memorial vandalised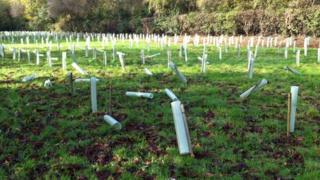 Vandals destroyed part of a World War One memorial woodland in Peterborough within 24 hours of it being planted.
About 60 volunteers helped plant 1,914 native trees in Ravensthorpe on Saturday to commemorate people from the city who fought in the war.
As many as 50 of the trees were torn up or knocked over some time on Sunday.
Children from a local primary school have been helping to replant the affected part of the fledgling centenary woodland.
The joint Peterborough Environment City Trust (Pect) and city council project was devised as a mark of respect to the "vital contribution of Peterborough's residents to the First World War effort".
A Pect spokesman said: "It is very disappointing, particularly so in light of the fact that this woodland has been planted to commemorate the First World War.
'People don't care'
"Our priority is to ensure the trees are cared for and maintained in order to benefit future generations of Peterborough residents."
Children from Ravensthorpe Primary School helped a Pect warden to replant the trees earlier.
One of the 10-year-old pupils said: "It's not exactly very nice because we're trying to do this to remember people who've died in the war.
"They've just been knocked down and it's just like people don't care about it.
"We try to make the world a better place by planting trees for the environment."
She said she and her fellow pupils "would not be beaten by vandals" and would help replant any other trees in the new woodland.