Christmas Star Wars Lego 'beaten' by Durham Cathedral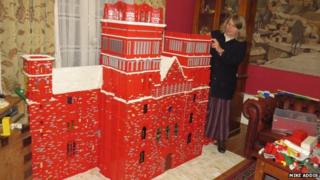 The children of a Lego-mad couple finally called an end to years of helping them build giant festive decorations - after their choice of a Christmas "Death Star" was rejected.
Mike Addis and Catherine Weightman use about 125,000 bricks to create their models.
Their children have become increasingly embarrassed by their hobby, they said.
"Choosing Durham Cathedral over a Star Wars Death Star space station was the last straw," Ms Weightman said.
The couple's living room in their Huntingdon home has been dominated by 10ft (3m) models including angels, a Dalek and a gingerbread house for the past 20 years.
Lego 'habit'
Both have been lifelong fans of the building bricks and made their first model when son Tom, now 22, was a baby.
Each year Mr Addis and Ms Weightman begin their model in mid-October, finishing two months later in time for Christmas.
This year's Lego model of Durham Cathedral was inspired by a recent visit by Ms Weightman to her hometown.
The cathedral is currently raising funds by asking people to donate £1 towards one of 350,000 Lego bricks it is using to build its own model of part of the edifice.
"I saw that, and thought we could give it a go, too," Ms Weightman said.
Over the years the couple have tried to rein in their Lego-buying habit, as the many boxes of bricks have taken over the family home.
However, the complexities of the cathedral mean that new arches have had to be ordered and until they arrive, Ms Weightman said she was "a bit behind with my part of the building".
The couple work from photographs, with Ms Weightman's father Neil, who lives in Durham, helping with the designs.
In the past the whole family including Tom, daughter Holly, 19, and youngest son Christopher, 16, joined in with the projects.
However, as they have grown up the children have become more reluctant to take part.
The annual traditional family photograph, posed in front of the giant decoration, has long since fallen by the wayside.
"Tom and Christopher are still happy to dabble with Star Wars Lego and were determined we should have a festive Death Star this year, but Durham Cathedral it is," Ms Weightman said.
As the cathedral with its 125,000 bricks takes shape, the furniture is moved and the television squashed into a corner to make room for what will dominate the house and dwarf the couple for months.
They hold an annual party on Twelfth Night where friends are invited to help dismantle it in return for food and drink.