Milton trains kill 12 horses but there 'may be some more'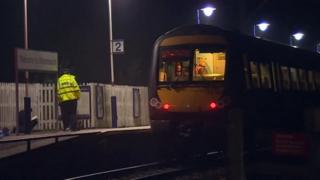 Police have now confirmed that 12 horses were killed after being struck by trains in Cambridgeshire but say there "may be some more".
British Transport Police (BTP) are trying to trace the owners of the horses killed on the Fen Road level crossing at Milton, north of Cambridge.
Ch Insp Matt Allingham said they do not yet know how the animals got onto the track on Wednesday night.
One passenger was taken to hospital with minor injuries and discharged.
The two trains involved in the incident were travelling between Birmingham and Stansted Airport.
Ch Insp Allingham said: "We know that 12 horses have been killed in the incident, but there may be some more.
"We urgently really need to find out who owns these horses.
"We just can't ascertain how the horses got onto the line, there doesn't seem to have been any obvious access point, but we're keeping an open mind."
He added it was "very unusual" for such a large number of animals to get onto the tracks.
Cambridgeshire Police, the ambulance service and fire service also attended the crash.