Peterborough council consults residents on budget and job cuts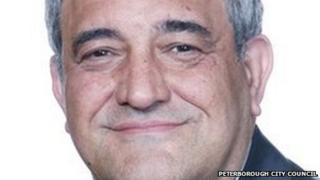 A consultation with Peterborough residents on plans to reduce the budget by £16.8m and cut 30 jobs has been formally approved by cabinet.
The Conservative-run administration said the city's government grant would be cut by £12.3m next year.
However, £12.5m more has to be found to fund increasing demand for services and government changes to care provision.
Nearly £25m must be saved overall to balance the books, council leader Marco Cereste said.
The council has launched an exercise called the Budget Conversation, in which residents are asked to help the council decide on savings by filling in a questionnaire.
Redundancy requests
Since its launch on 14 November, 88 online replies have been received and many hard copies have been picked up from libraries.
"Savings of £16.8m have been identified but a further £8m reduction will have to be made to balance the budget for 2015/16," the council said.
"A second set of proposals outlining how this additional £8m can be achieved will be published in January 2015."
The council has said 55 jobs are at risk but this has been reduced by 12 vacant posts not being filled and 13 people expressing a request for voluntary redundancy.
Mr Cereste said: "We want to understand which of the services matter to residents the most, so that we can consider this when drafting our second round of proposals to identify the remaining £8m savings."