Welney reserve eyes black-tailed godwit breeding boost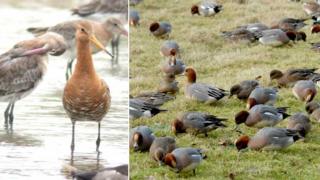 A nature reserve is hoping a newly created habitat will help address the "dangerously low" numbers of black-tailed godwits.
The Wildfowl and Wetlands Trust (WWT) has created an extra 94 acres (38 hectares) of wet grassland at Welney on the Cambridgeshire-Norfolk border.
It said numbers of breeding pairs at the reserve peaked at 11 in 1989, but had since dipped to three pairs.
The trust has spent a year expanding its reserve using former farmland.
The number of breeding pairs dropped to zero in 1999 and 2000, the WWT said.
Emma Brand, marketing manager at the Welney reserve, said: "Three pairs is dangerously low for this site, but we're confident this new habitat will increase numbers again."
The birds migrate to the UK from Africa for the spring.
The WWT said there were believed to be only 60 breeding pairs in the UK, with the rest found at the Nene Washes in Cambridgeshire.
Power lines buried
The trust said the fields had been re-landscaped with ditches to provide shallow slopes to water pools, while grasses and sedge have been planted.
It is also hoping to attract other bird species, including widgeon.
The project has been funded by Waste Recycling Environmental Limited (Wren) using money generated from the Landfill Communities Fund.
Construction of Lady Fen began in 2006 and it now covers a total of 282 acres (114 hectares).