Earith villagers seek Aylesbury duck thief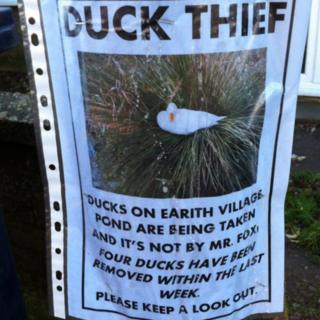 A duck thief is being sought after all seven Aylesbury-type ducks on a Cambridgeshire village pond were taken.
Posters were put up by Earith parish councillor Hazel Lambert after the ducks began disappearing at the rate of one per night.
Ms Lambert said she did not believe a fox was the culprit as there was no evidence, such as feathers.
She said if they had been "taken for the pot", the meat would be "very tough as they are plump but quite elderly".
The ducks, bought by the parish council, had been living on the pond for many years.
Ms Lambert looks after them, as well as the many wild ducks that visit, "as a labour of love".
"I put the posters up to make the community aware this is something that's actually happening and possibly shame the thief," she said.
"No fox I know takes one duck per night, and the last one to go was an elderly female duck with a hobble. She would certainly have been picked off first by a predator.
"It's very, very sad and our decision now is going to be, do we replace those ducks because you don't want to go on replacing ducks that I assume are going to be taken for the pot."
The parish council will discuss the ducks at a future meeting.