Papworth Hospital gets planning permission for Cambridge move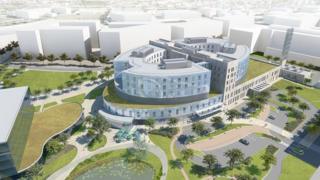 One of the UK's largest NHS specialist heart and lung hospitals has been granted planning permission for its move to Cambridge.
Papworth Hospital will be built on the Cambridge Biomedical Campus, now it has Cambridge City Council approval.
It will move from Papworth Everard, 13 miles (20km) west of Cambridge, in early 2018 at a cost of £165m.
Papworth chairman John Wallwork said it was an "exhilarating time for the hospital".
Chief executive Stephen Bridge said: "The new hospital will allow Papworth to continue to lead in cardiothoracic care."
Prof Wallwork, a former consultant surgeon, said: "This once-in-a-lifetime opportunity also opens up exciting prospects in terms of world-class research and education facilities which will benefit the wider UK health economy."
The Cambridge Biomedical Campus is home to healthcare firms, education institutions, research establishments and hospitals, including Addenbrooke's Hospital.
Papworth Hospital currently treats more than 23,700 in-patients and day cases plus nearly 65,000 outpatients each year.
The £165m cost of the move is being partly paid for through a 30-year Private Finance Initiative (PFI) deal, and partly through the public sector, a hospital spokeswoman said.
Work is scheduled to start on the 310-bed heart and lung hospital in early 2015.
In 1979, the UK's first successful heart transplant was carried out at Papworth and the current hospital has 276 beds.