Milton train crash horse death toll lower than feared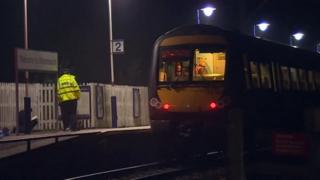 An investigation into a train crash involving horses has found six were killed, half the number initially feared, the RSPCA has confirmed.
The animals were hit on the Fen Road crossing at Milton, between Waterbeach and Cambridge, on 19 November.
British Transport Police said it cannot progress "a case for neglect of care" until the horses' owners are found.
The RSPCA said "a minimum" of six horses were killed. There were initial fears at least 12 had died.
The two trains involved in the crash were travelling between Birmingham and Stansted Airport and they struck the horses shortly after 17:00 GMT.
The RSPCA said it believed the horses were cobs. Among them were two piebald stallions, a bay foal under a year old and a skewbald mare.
Police press officer Peter O'Connor said: "We've identified the landowners [on either side of the track] but haven't been able to determine the owners of the horses.
"Because of that, we haven't progressed any case for neglect of care."
He also confirmed there was "no suggestion the horses were sent directly to the line, so it could just be a tragic accident".