Lute manuscripts uploaded to Cambridge Digital Library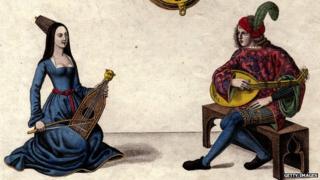 A "remarkable" collection of lute manuscripts dating back to the 16th Century has been put online by the University of Cambridge.
The 650 pieces include handwritten scores by John Dowland, Francis Cutting and other early modern composers.
John Robinson of the Lute Society said the collection was "invaluable", with many works being lost over centuries.
"Digitisation means the original sources can be viewed, studied and played by people worldwide," he said.
The Cambridge Digital Library project is putting the university's vast collections in science, religion and the arts online to benefit researchers around the world and ensure works are available to future generations.
'Invaluable legacy'
The university uploaded the latest images in collaboration with the Lute Society, which provided detailed descriptions of the manuscripts.
The European lute was said to derive from the Arabic Ud and was one of the most important musical instruments during the Middle Ages and Renaissance period, with the first music written down in the late 15th Century.
Learning the lute was seen as an important part of the education of royalty and nobility and a number of composers flourished from the 1580s onwards, including John Johnson, Robert Johnson, Francis Cutting, Anthony Holborne, Daniel Bacheler and John Dowland.
The uploaded works are from the "golden" era of English lute music, between 1580 and 1615, and are said to shed light on the Tudor celebrities to whom some of the pieces are dedicated - from the courtier Sir Walter Raleigh to actor Will Kemp.
Mr Robinson said: "A huge number of manuscripts have been lost over the centuries, which makes the survival of this collection all the more remarkable.
"The manuscripts are written in French tablature with the notation providing a guide to where to put the fingers on the lute neck, rather like chord shapes in modern guitar tutorials.
"Today it is an invaluable legacy for professional musicians and musicologists as well as amateur enthusiasts."