Paedophile doctor Myles Bradbury case prompts independent inquiry call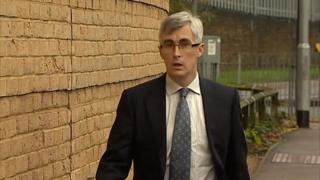 An independent inquiry is needed into how a paedophile doctor's abuse of boys in his care went undetected for more than four years, a solicitor has said.
Myles Bradbury, 41, from Suffolk, was jailed in December for 22 years after admitting abusing 18 boys in his care at Addenbrooke's Hospital in Cambridge.
Renu Daly, who is representing some of his victims, has called on the health secretary to investigate the hospital.
The Health Department said the hospital's own inquiry was under way.
Bradbury, a blood cancer specialist from Herringswell, admitted 25 offences, including sexual assault, voyeurism and possessing more than 16,000 indecent images, carried out between 2009 and 2013.
'Scratched the surface'
In court it emerged Bradbury had used a spy pen to take more than 170,000 pictures of his victims while treating them at Addenbrooke's.
Sentencing him, the judge said his actions amounted to a "prolonged, carefully planned, cruel and persistent campaign of abuse".
Miss Daly, however, said she believed the court case only "scratched the surface", and called on Health Secretary Jeremy Hunt to order a "full and independent inquiry into child abuse at Addenbrooke's".
"Immediately following Bradbury's sentencing there was talk of an independent inquiry, but none of the families we are representing have so far been informed of one taking place, and that is simply not acceptable.
"The fundamental question of how he was able to abuse young children for so long without detection whilst working at Addenbrooke's still remains unanswered," she said.
Many of the families represented by her firm Neil Hudgell Solicitors "feel the hospital should be held accountable", Miss Daly added.
A spokesman for the hospital said its own "independent investigation" into Bradbury began in December.
"We are keen to conclude this investigation as quickly as possible but this is an independent investigation and it is important that it has the time to be as thorough as possible."
A Department of Health spokesman said it was still awaiting the outcome of that investigation.
"[We] expect that all findings will be acted on quickly, so that everything possible is done to avoid appalling crimes like this happening again," he said.
Bradbury's crimes came to light after Canadian authorities alerted the UK's Child Exploitation and Online Protection Centre (Ceop) in July 2012 that the doctor had bought a DVD containing indecent images of children.
However, Ceop did not pass on the information until November 2013.
Bradbury was then arrested and charged the following month.