Peterborough council consults residents on budget and job cuts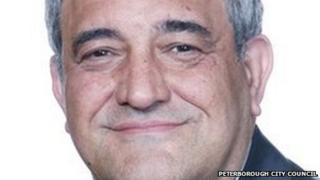 More cuts to senior posts, changes to social services and arts funding cuts are planned by a Cambridgeshire council in a bid to save an extra £8.2m.
Peterborough City Council has already announced budget cuts of £16.6m and 30 jobs losses but needs further savings.
The Conservative-run administration aims to finalise its plans on 4 March and is asking for the public's views.
Council leader Marco Cereste has also pledged to freeze council tax saying "in total we need to save £25.3m".
"On 17 December, councillors approved this first phase of proposals which amounted to £16.6m.
"However, in total we need to save £25.3m - that's £500,000 worse than we first envisaged.
"The government announced just before Christmas that our grant would be £12.8m less next year - not the £12.3 million for which we had planned," he said.
Major savings will be made in areas such as reorganisation of adult social care and health provision which will see £1.1m extra saved above the £7m already announced.
Further cuts in senior managerial posts is expected to bring savings of £350,000.
Residents have until he beginning of March to make their views known.